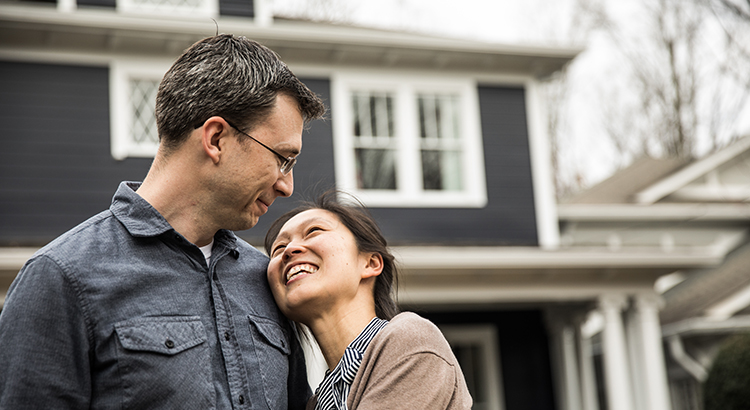 So far, it's been quite a ride this year, and our nation has truly seen its fair share of hurdles. From COVID-19 to record unemployment and then the resulting recession, just to name a few, the second quarter of 2020 has had more than a few challenges. Amidst the many roadblocks, however, the U.S. homeownership rate rose again, signaling great strength in the recovery of the housing market and an indication that even in a time of crisis, Americans still feel confident about buying a home.
Yesterday, the U.S. Census Bureau announced:
"The homeownership rate of 67.9 percent was 3.8 percentage points higher than the rate in the second quarter 2019 (64.1 percent) and 2.6 percentage points higher than the rate in the first quarter 2020 (65.3 percent)."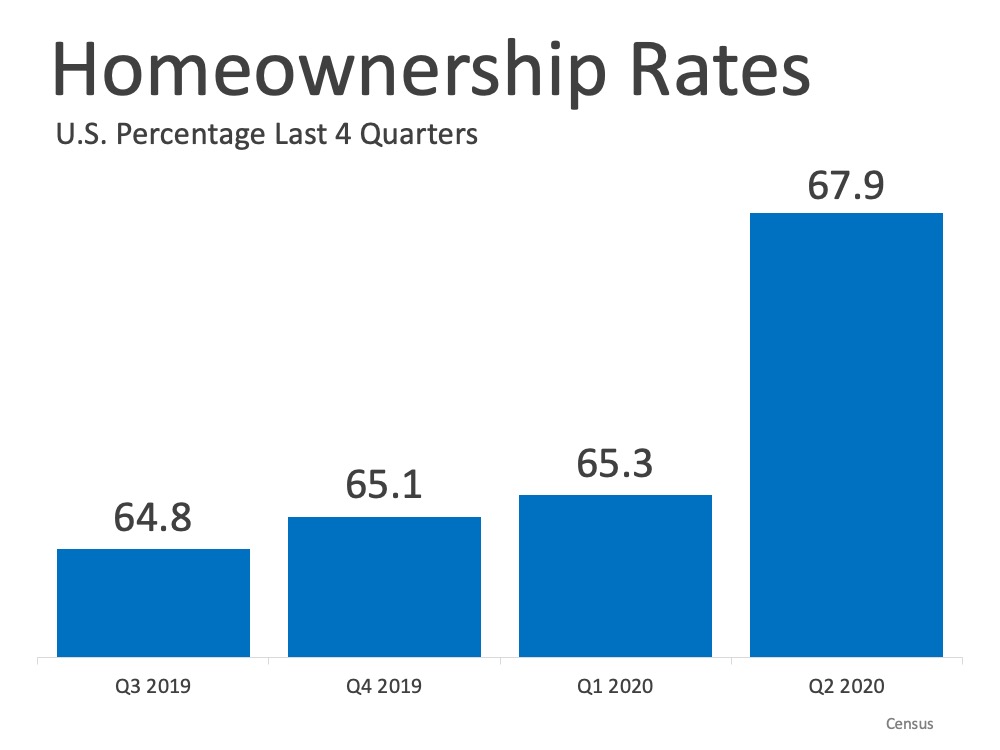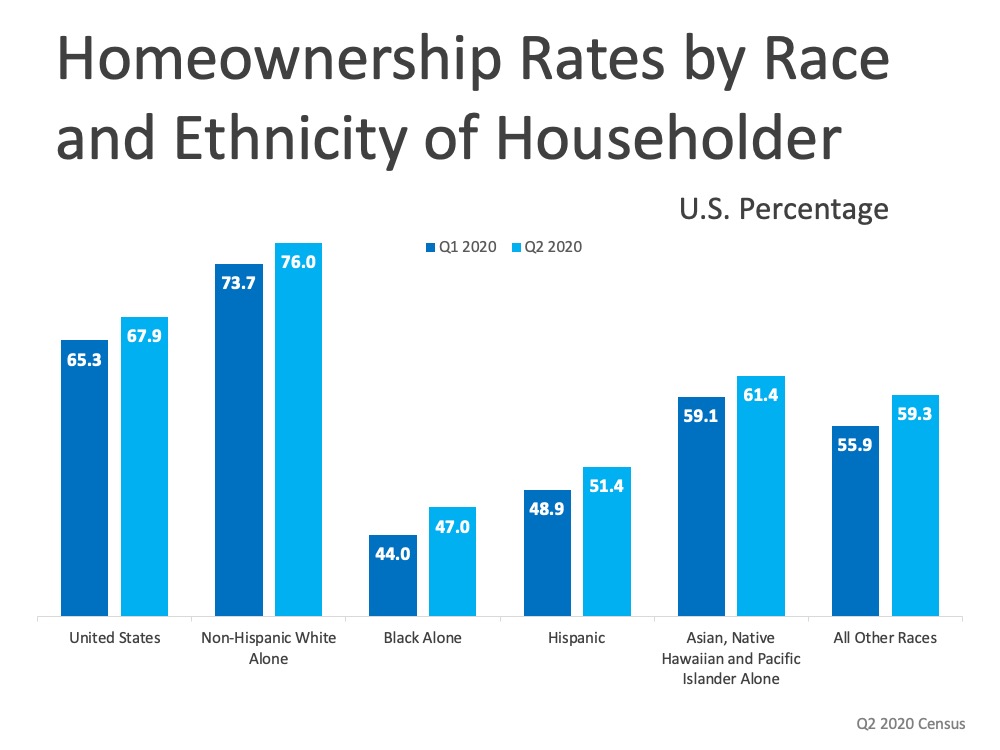 The increase is also represented by race and ethnicity of the householder:There are many reasons why the homeownership rate in this country is rising, and one of the key factors is historically-low mortgage rates. Rates hovering at all-time lows are helping to drive affordability and enabling more potential homeowners to enter the market today. According to Ralph McLaughlin, Chief Economist for Haus:
"Mortgage rates are the icing on the cake for households that were thinking about buying…They found an unexpected opportunity during the worst economic downturn America has seen since the Great Depression."
In addition, many potential homebuyers have been using their time this year to search for homes that offer more space than their current rental apartments. Many of these homebuyers are younger and, as noted by Odeta Kushi, Deputy Chief Economist at First American, are the buyers driving the homeownership rate in an upward direction:
"Big jump in the homeownership rate today, mostly driven by younger households. We saw a spike in the number of owners, and a decline in the number of renters. This is the highest rate of homeownership since 2008."
This growth is outstanding news for the housing market and for those who have recently found their new homes. If homeownership is on your shortlist this year, maybe now is a great time to meet with a real estate professional to evaluate your current situation. Perhaps historically low mortgage rates can help you to become a homeowner too.
Bottom Line
If you're thinking of buying a home this year, let's connect today to take your dream one step closer to reality.
___
Announcement from the census: As a result of the coronavirus pandemic (COVID-19), data collection operations for the CPS/HVS were affected during the second quarter of 2020. In-person interviews were suspended for the duration of the second quarter and replaced with telephone interview attempts when contact information was available. If the Field Representative was unable to get information on the sample unit, the unit was made a Type A no interview (no one home, refusal, etc.). See the FAQ for more information.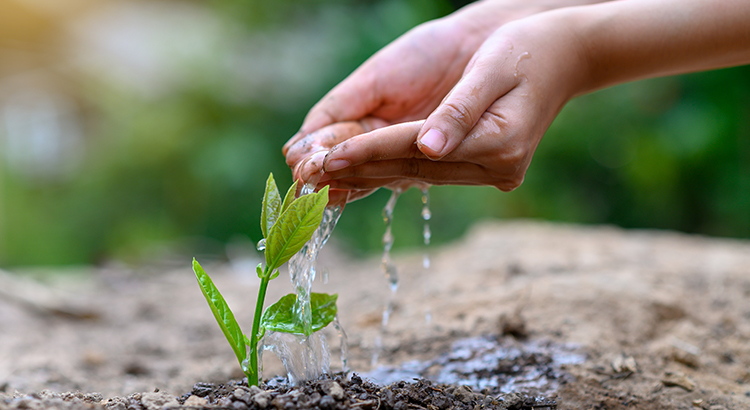 In June, the number of first-time homebuyers accounted for 35% of the existing homes sold, a trend that's been building steadily throughout the year. According to the National Association of Realtors (NAR):
"The share of first-time buyers increased in March through June—right into the heart of the pandemic period and the surge in unemployment—and is now trending higher than the 29% to 32% average in past years since 2012." (See graph below):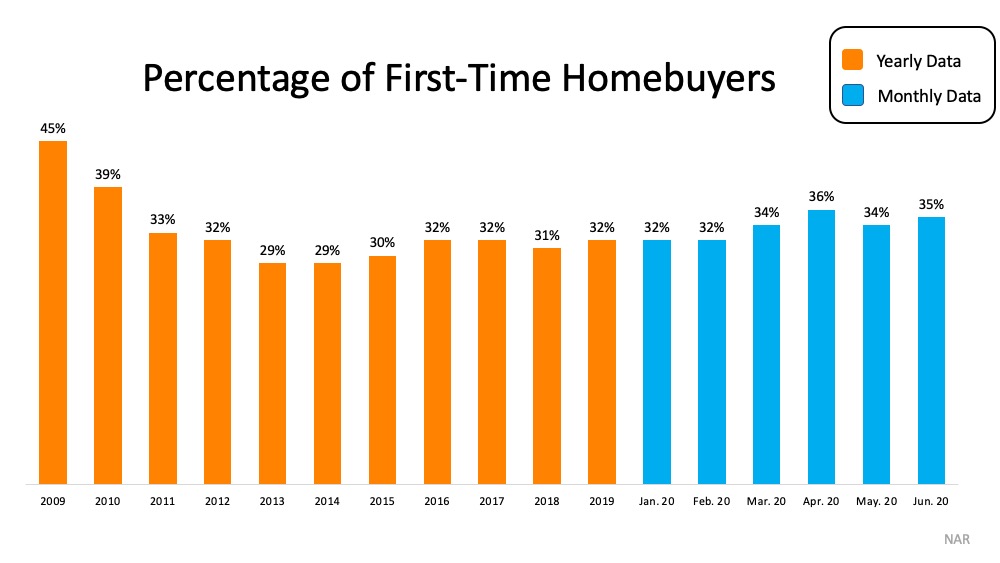 Why the rise in first-time homebuying?
NAR continues to say:
"The major factor is, arguably, low mortgage rates. As of the week ended July 16, the 30-year fixed mortgage rate dropped to 2.98%. With rates so low that are locked in under a 30-year mortgage, the typical mortgage payment, estimated at $1,036, has fallen below the median rent, at $1,045. For potential home buyers who were thinking of purchasing a home anyway before the pandemic outbreak and who are likely to remain employed, the low mortgage rate may be the clincher."
Clearly, historically low mortgage rates are encouraging many to buy. With the average mortgage payment now estimated at a lower monthly cost than renting, it's a great time for first-time homebuyers to enter the market. According to the Q2 2020 Housing Trends Report from the National Association of Homebuilders (NAHB):
"Eighty-four percent of Gen Z's planning to buy a home are first timers, compared to 68% of Millennials, 52% of Gen X's, and 21% of Boomers. Looking at results by region shows that over 60% of prospective buyers in the Northeast and South are buying a home for the first time. The share is above 55% in the Midwest and West."
There are, however, challenges for first-time buyers. A recent survey conducted by NeighborWorks America also notes that understanding the homebuying process may be the most significant barrier for many hopeful homeowners:
"Homeownership is a particular challenge for many, despite high levels of interest. Americans believe there are many benefits to homeownership and half of non-owners will seek information about the process in the next few years…a large share of non-owners say the process is too challenging and only a minority know where to find advice if they wanted it. And although many would seek the guidance of community and non-profit programs, only one in three non-owners are aware of such services."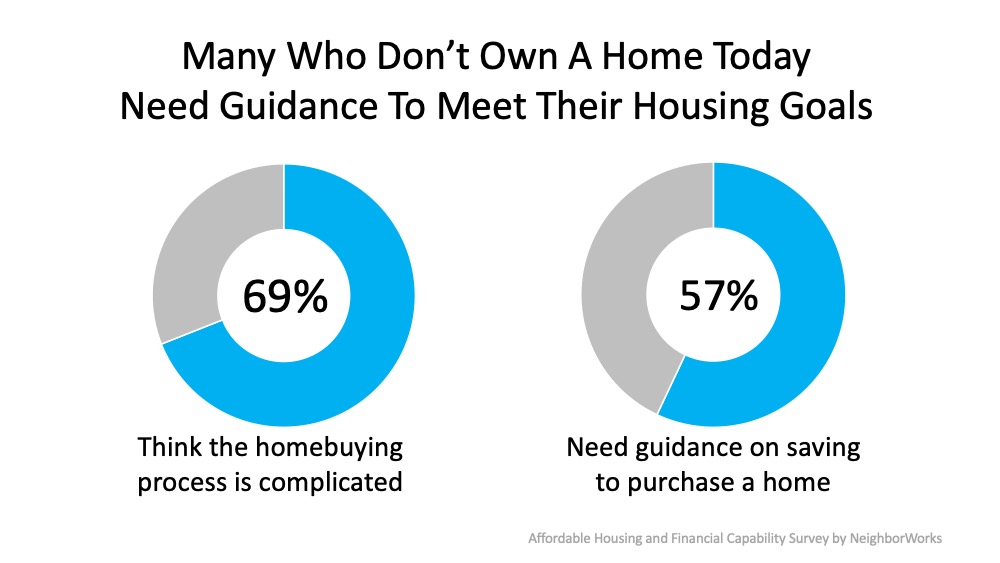 If you're among the first-time homebuyers who feel the process is complicated, you're not alone. If you're not sure where to begin or you simply want help in figuring out how to save for a home, finding a trusted real estate advisor to work with is a critical step toward your success. A real estate professional can help you understand the process, review your current situation, and guide you with a plan to help you to feel confident when buying a home.
Bottom Line
If you're interested in purchasing a home and need help getting started, let's connect today so you can take advantage of the support available to guide you through each step of the way.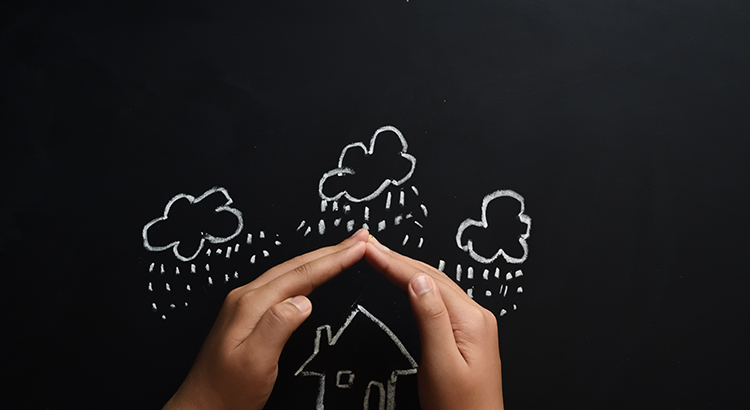 The health crisis we face as a country has led businesses all over the nation to reduce or discontinue their services altogether. This pause in the economy has greatly impacted the workforce and as a result, many people have been laid off or furloughed. Naturally, that would lead many to believe we might see a rush of foreclosures like we saw in 2008. The market today, however, is very different from 2008.
The concern of more foreclosures based on those that are out of work is one that we need to understand fully. There are two reasons we won't see a rush of foreclosures this fall: forbearance extension options and strong homeowner equity.
1. Forbearance Extension
Forbearance, according to the Consumer Financial Protection Bureau (CFPB), is "when your mortgage servicer or lender allows you to temporarily pay your mortgage at a lower payment or pause paying your mortgage." Thisis an option for those who need immediate relief. In today's economy, the CFPB has given homeowners a way to extend their forbearance, which will greatly assist those families who need it at this critical time.
Under the CARES Act, the CFPB notes:
"If you experience financial hardship due to the coronavirus pandemic, you have a right to request and obtain a forbearance for up to 180 days. You also have the right to request and obtain an extension for up to another 180 days (for a total of up to 360 days)."
2. Strong Homeowner Equity
Equity is also working in favor of today's homeowners. This savings is another reason why we won't see substantial foreclosures in the near future. Today's homeowners who are in forbearance actually have more equity in their homes than what the market experienced in 2008.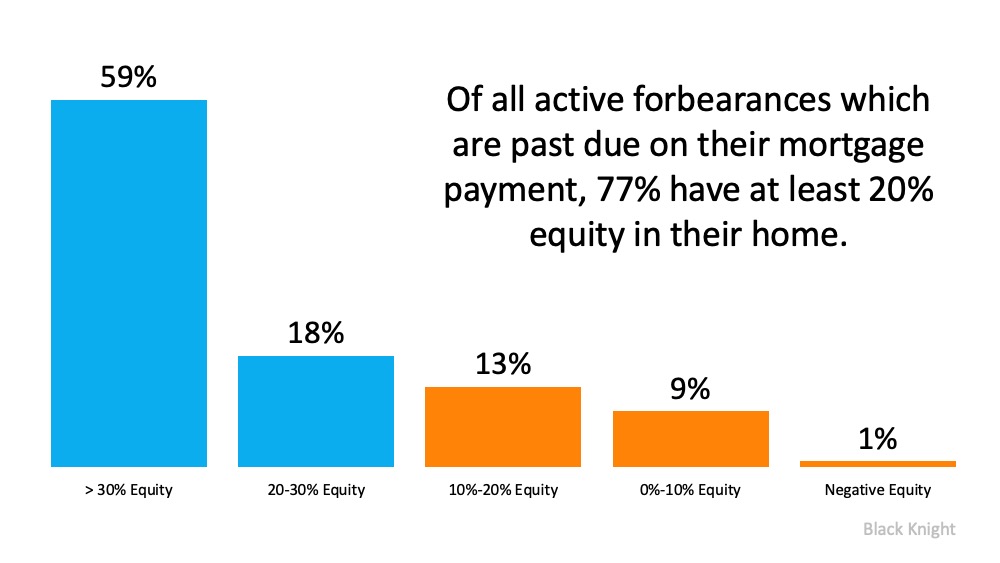 The Mortgage Monitor report from Black Knight indicates that of all active forbearances which are past due on their mortgage payment, 77% have at least 20% equity in their homes (See graph below):Black Knight notes:
"The high level of equity provides options for homeowners, policymakers, mortgage investors and servicers in helping to avoid downstream foreclosure activity and default-related losses."
Bottom Line
Many think we may see a rush of foreclosures this fall, but the facts just don't add up in this case. Today's real estate market is very different from 2008 when we saw many homeowners walk away when they owed more than their homes were worth. This time, equity is stronger and plans are in place to help those affected weather the storm.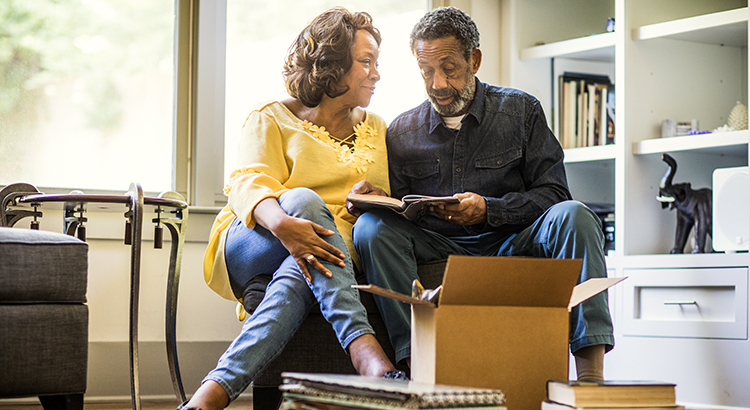 Inventory is arguably the biggest challenge for buyers in today's housing market. There are simply more buyers actively looking for homes to purchase than there are sellers selling them, so the scale is tipped in favor of the sellers.
According to the latest Existing Home Sales Report from the National Association of Realtors (NAR), total housing inventory is down 18.8% from one year ago. Inventory is well below what was available last year, and the houses that do come to the market are selling very quickly.
Sam Khater, Chief Economist at Freddie Mac notes:
"Simply put, new housing supply is not keeping up with rising demand. We estimate that the housing market is undersupplied by 3.3 million units, and the shortage is rising by about 300,000 units a year. More than half of all states have a housing shortage."
Why is inventory so low?
There are many reasons why it's hard to find a home to buy today, stemming from an undersupply of newly constructed homes to sellers pressing pause on their moving plans due to the current health pandemic. One of the key factors making it even more challenging, however, is the amount of time current homeowners are staying in their homes. There has truly been a fundamental shift in the market that started about 10 years ago: people are staying put longer, and it's contributing to the shortage of houses for sale.
In the 2019 Profile of Home Buyers and Sellers, NAR explained:
"In 2019, the median tenure for sellers was 10 years…After 2008, the median tenure in the home began to increase by one year each year. By 2011, the median tenure reached nine years, where it remained for three consecutive years, and jumped up again in 2014 to 10 years."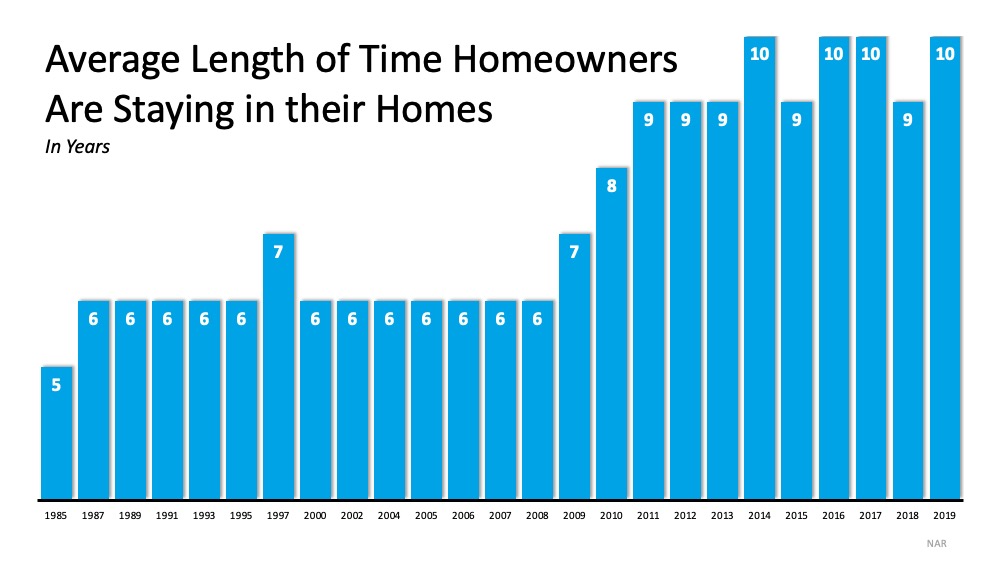 As shown in the graph below, historical data indicates that staying in a home for 5-7 years used to be the norm, until the housing bubble burst. Since 2010, that length of time has trended upward, toward 9-10 years, largely due to homeowners aiming to recoup their equity:Thankfully, with the strength the market has gained over the last 10 years, today's homeowners are in a much better equity position. Now is a fantastic time for homeowners who are ready to make a move to break the 10-year trend and sell their houses, especially while buyer demand is so high and inventory is so low. It's a prime time to sell.
In addition, with today's historically low interest rates, there's an opportunity for sellers to maintain a low monthly payment while getting more house for their money. Think: move-up opportunity, more square footage, or finding the features they're really looking for rather than doing costly renovations. With more new homes poised to enter the market this year, homeowners ready to make a move may have a golden opportunity to do so right now.
Bottom Line
There are simply not enough houses for sale today. If you're ready to leverage your equity and sell your house, let's connect today. It's a great time to move while demand for homes to buy is extremely high.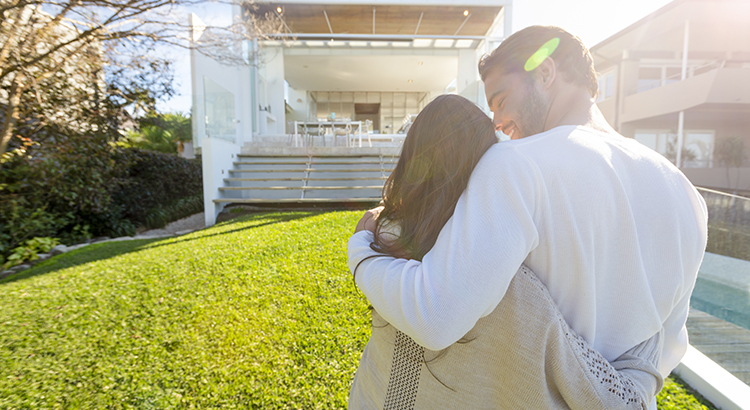 With a worldwide health crisis that drove a pause in the economy this year, the housing market was greatly impacted. Many have been eagerly awaiting some bright signs of a recovery. Based on the latest Existing Home Sales Report from the National Association of Realtors (NAR), June hit a much-anticipated record-setting rebound to ignite that spark.
According to NAR, home sales jumped 20.7% from May to a seasonally-adjusted annual rate of 4.72 million in June:
"Existing-home sales rebounded at a record pace in June, showing strong signs of a market turnaround after three straight months of sales declines caused by the ongoing pandemic…Each of the four major regions achieved month-over-month growth."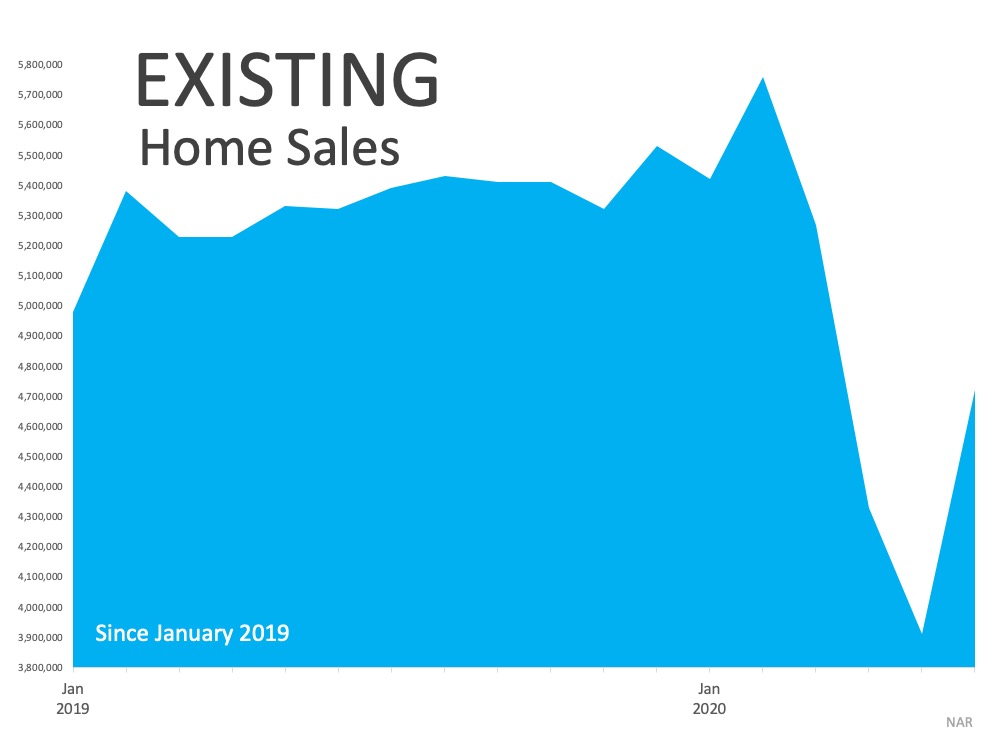 This significant rebound is a major boost for the housing market and the U.S. economy. According to Lawrence Yun, Chief Economist for NAR, the momentum has the potential to continue on, too:
"The sales recovery is strong, as buyers were eager to purchase homes and properties that they had been eyeing during the shutdown…This revitalization looks to be sustainable for many months ahead as long as mortgage rates remain low and job gains continue."
With mortgage rates hitting an all-time low, dropping below 3% for the first time last week, potential homebuyers are poised to continue taking advantage of this historic opportunity to buy. This fierce competition among buyers is contributing to home price increases as well, as more buyers are finding themselves in bidding wars in this environment. The report also notes:
"The median existing-home price for all housing types in June was $295,300, up 3.5% from June 2019 ($285,400), as prices rose in every region. June's national price increase marks 100 straight months of year-over-year gains."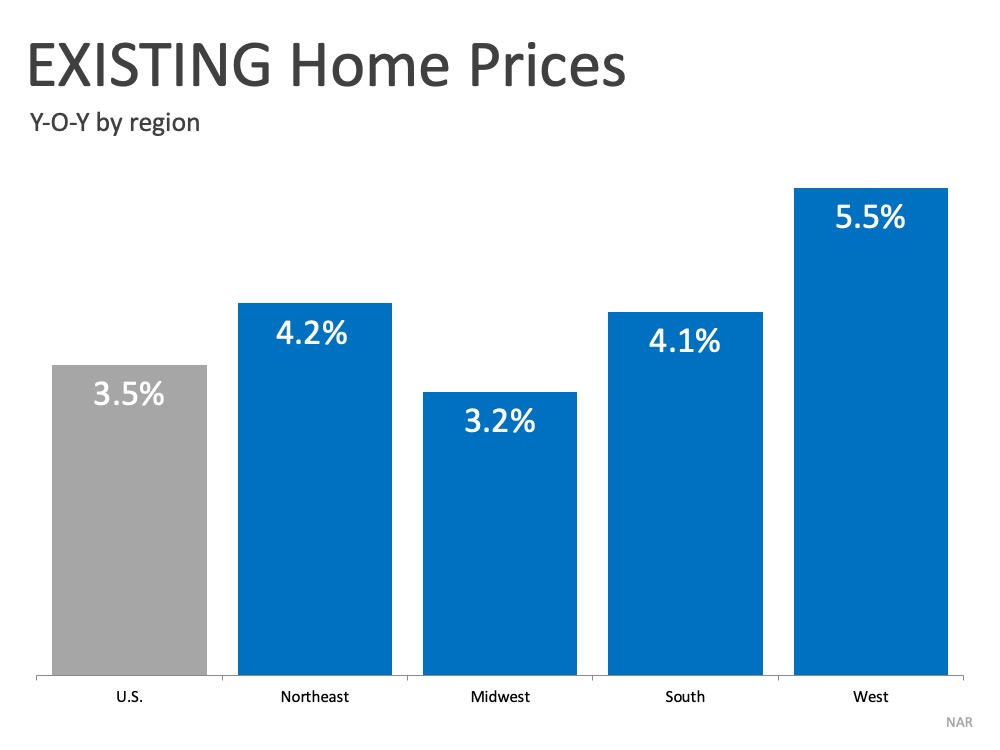 The graph below shows home price increases by region, powered by low interest rates, pent-up demand, and a decline in inventory on the market:Yun also indicates:
"Home prices rose during the lockdown and could rise even further due to heavy buyer competition and a significant shortage of supply."
Bottom Line
Buyers returning to the market is a great sign for the economy, as housing is still leading the way toward a recovery. If you're ready to buy a home this year, let's connect to make sure you have the best possible guide with you each step of the way.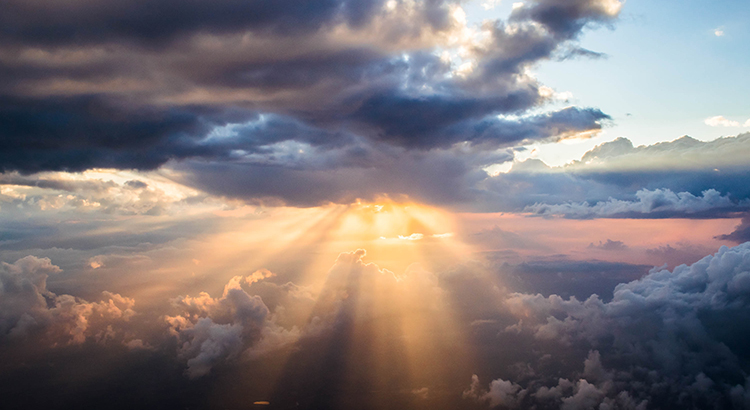 For months now the vast majority of Americans have been asking the same question: When will the economy turn around? Many experts have been saying the housing market will lead the way to a recovery, and today we're seeing signs of that coming to light. With record-low mortgage rates driving high demand from potential buyers, homes are being purchased at an accelerating pace, and it's keeping the housing market and the economy moving.
Here's a look at what a few of the experts have to say about today's astonishing recovery. In more than one instance, it's being noted as truly remarkable.
Ali Wolf, Chief Economist, Meyers Research
"The housing recovery has been nothing short of remarkable…The expectation was that housing would be crushed. It was—for about two months—and then it came roaring back."
"Recent home purchase measures have continued to show remarkable strength, leading us to revise upward our home sales forecast, particularly over the third quarter. Similarly, we bumped up our expectations for home price growth and purchase mortgage originations."
Javier Vivas, Director of Economic Research for realtor.com
"All-time low mortgage rates and easing job losses have boosted buyer confidence back to pre-pandemic levels."
James Knightley, Chief International Economist, ING
"At face value this is remarkable given the scale of joblessness in the economy and the ongoing uncertainty relating to the path of Covid-19…The outlook for housing transactions, construction activity and employment in the sector is looking much better than what looked possible just a couple of months ago."
Bottom Line
The strength of the housing market is a bright spark in the economy and leading the way to what is truly being called a remarkable recovery throughout this country. If you're thinking of buying or selling a home, maybe this is your year to make a move after all.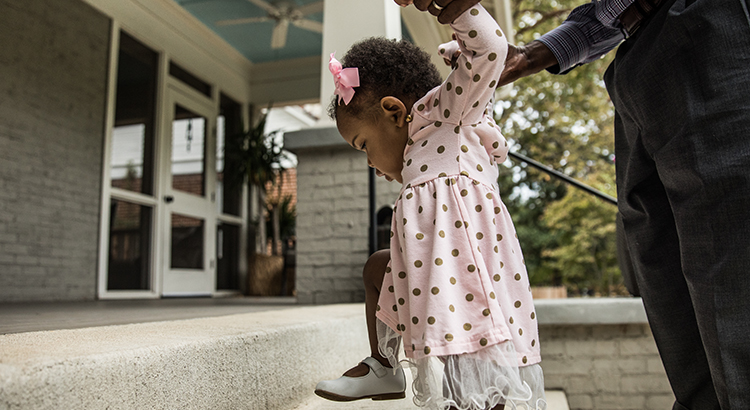 The residential real estate market is remaining resilient as the country still struggles to beat the COVID-19 pandemic. Three separate reports recently revealed how the housing market is still showing growth. Here's a look at each one.
The survey explains that purchaser demand remains strong:
"This month's overall homebuyer demand rating…was easily the strongest sequential gain in our survey history…Strength continues to be led by the entry-level…While high-end demand is less robust in an absolute sense, there has also been relative improvement, with contacts attributing incremental improvement to the stock market's rebound, record low mortgage rates and luxury customers trading out of high-priced cities."
2. The National Association of Home Builders Housing Market Index
The index reveals that builder confidence has returned to levels last seen prior to the pandemic:
"In a strong signal that the housing market is ready to lead a post-COVID economic recovery, builder confidence in the market for newly-built single-family homes jumped 14 points to 72 in July, according to the latest National Association of Home Builders/Wells Fargo Housing Market Index (HMI). The HMI now stands at the solid pre-pandemic reading in March before the outbreak affected much of the nation."
This index leverages a weighted average of four key components of the housing industry, tracking each of the following:
Housing Demand – Growth in online search activity
Home Price – Growth in asking prices
Housing Supply – Growth of new listings
Pace of Sales – Difference in time-on-market
It then compares the current status "to the last week of January 2020 market trend, as a baseline for pre-COVID market growth. The overall index is set to 100 in this baseline period. The higher a market's index value, the higher its recovery and vice versa."
The latest results came in at 101, with realtor.com explaining:
"The U.S. Housing Market has recovered from the immediate disruption caused by the COVID pandemic and returned to January 2020 growth levels."
Bottom Line
Real estate brokers, home builders, and industry data all agree that the housing market has surged back to pre-COVID levels, showing growth, strength, and incredible resilience.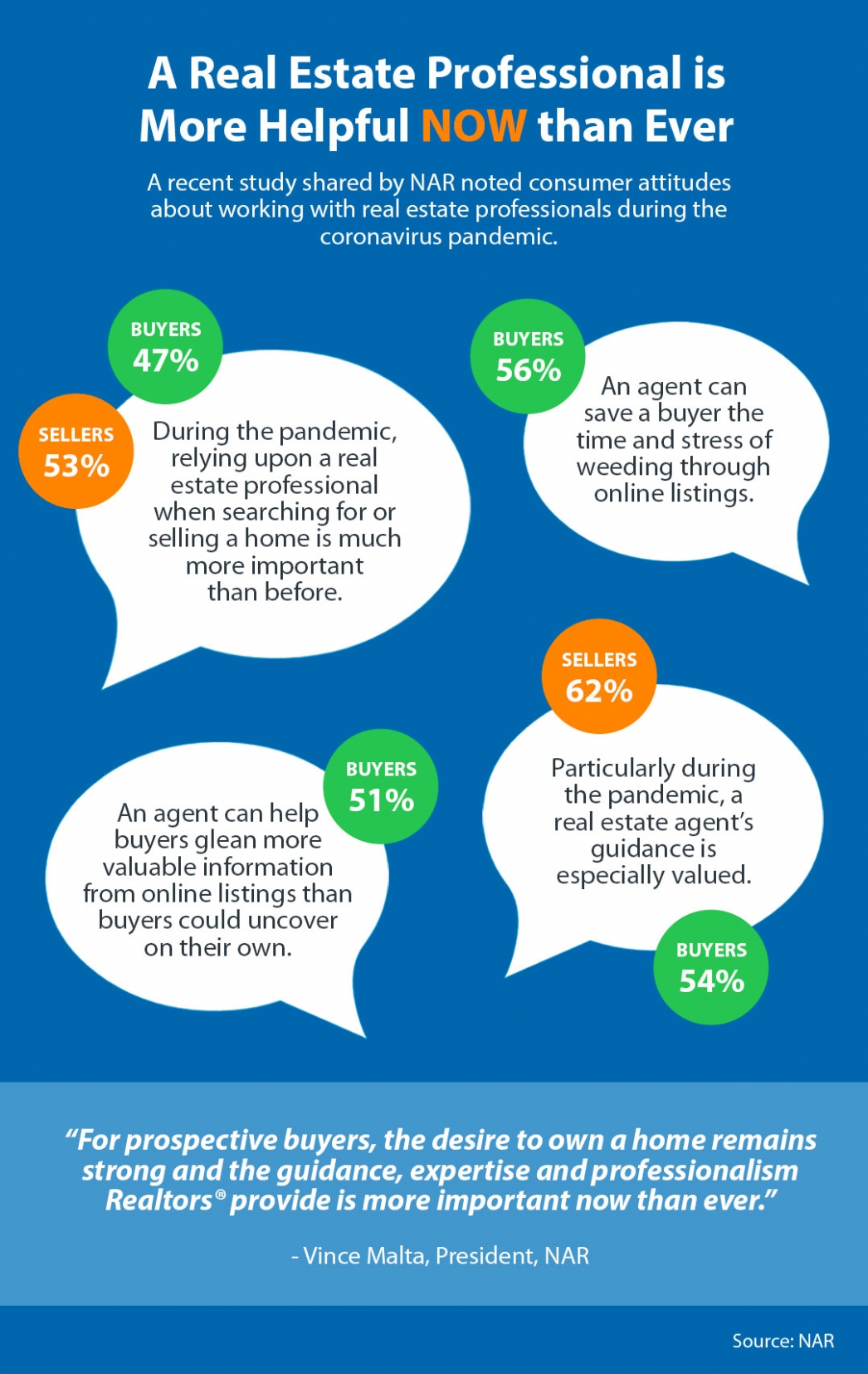 Some Highlights
A recent study shared by NAR notes that both buyers and sellers think an agent is more helpful than ever during the current health crisis.
Expertise and professionalism are highly valued and can save buyers and sellers time and effort along the way.
If you're thinking of buying or selling a home this year, let's connect to be sure you have a trusted professional on your side.